OKbridge is an online Bridge membership site. The site is not free, but instead a yearly membership is charged to be able to play. The fee, which is less than $100 per year creates a barrier of entry to the casual Bridge player. Because of the charge to join this online Bridge club the members are generally more serious about playing Bridge. The average skill level is the highest and challenging games are the norm. The best part about OKbridge are the Bridge tournaments they host on a regular basis. Competing in competitive Bridge tournaments can give you a good idea where you stand relative to a large field of international players. OKbridge is focused on providing top performing games so the graphics and gameplay are both excellent. The speed of the game is fast and the controls are well suited for bidding and playing of the hand.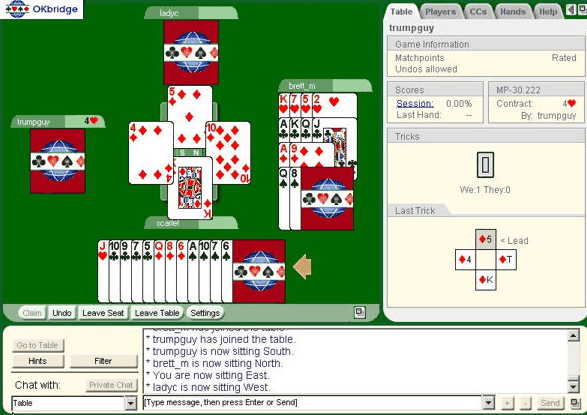 Adequate gaming servers keep the games running smoothly
Graphics are right up there with the best online Bridge sites
Beginners to Bridge may want to try a free site first before joining
Tournaments are popular and very competitive
Level of play is generally higher than normal
Membership site costs money to join this Bridge club
Access to Bridge articles written by top Bridge authors
Over 13,000 members from over 100 countries
Regarded by Bridge players as the best Bridge community
7 days a week customer service
OKbridge is one of the best known paid membership sites for playing Bridge online. The yearly fee keeps many players from joining, but the benefits of membership make paying the fee worthless for serious Bridge players. Tournaments and challenging contract Bridge games are the norm as OKbridge attracts players who are play to win. Rating system is based on your results and not on how often you play online. Fair play is very important to the OKbridge community so the Conduct and Ethics Team reviews questionable play and abusive behavior and removes members who are not playing fairly or those conducting themselves in a manner which is not proper to a friendly online Bridge community.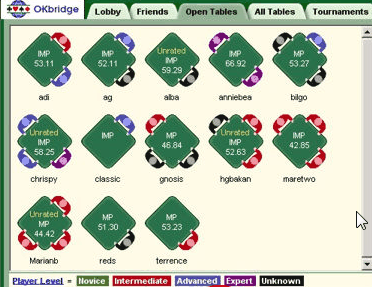 OKbridge review
The conclusion of the
OKbridge
review is that as far as paid Internet Bridge sites are concerned OKbridge is one of the best. The site is used by many of the top pro players and the tournaments are well attended by many players in the Bridge club. Expect to see some aggressive auction bidding and intelligent hand play. Professional and well known Bridge players like Warren Buffet play at OKbridge and as a member you will have many chances to play against this type of top level competition. The software which runs on Java is played right through your Internet browser. The connection is fast, the software implementation of the game is one of the best online and the customer service at OKbridge is considered excellent by most members.