Play online bridge makes it easy to learn the game of bridge and improve your play. This online bridge resource suggests the best options for players looking to play bridge online. Contract bridge card game playing experience involves strategic thinking, teamwork and competition that makes the game fun.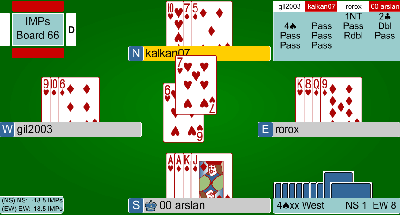 The play online bridge site guide is for beginners and intermediate bridge players looking for information about internet bridge sites. For players, the information about the various bridge websites can help them choose a fun and challenging place to play online. Amateurs, professionals and world champions continue to improve their contract bridge game by spending hours playing with their partners online. Internet contract bridge can be played against other real online players, against computer players or a mixture of both. For the best experience, choose an online bridge playing room that maximizes your comfort and playing enjoyment.
The bridge articles found here can help answer frequently asked questions for those just starting to learn the game. Additionally, many of the how to play bridge articles are aimed at beginners. Players from around the world will challenge you to improve your ability. With the readily available bridge books, online bridge discussion forums and free online sites to practice you will be playing better contract bridge in no time.
Reading articles is a great way to get insights into how to approach bidding during different types of deals. For example, learning about the importance of the opening lead and how you can more often make the correct opening lead. Learn this by studying how the bidding and likely hand distribution amongst your opponents and your partner can impact your opening lead decisions. Take time to really analyze the options and strategies in order to discover the best course of action during the auction and while playing the hand.
Bridge is a seemingly complex game when you first start learning and playing the game. With bidding, hand play, scoring, conventions, rules, strategy, hand reading and the challenge of communicating with your partner makes learning the game for beginners a rewarding challenge. Please use this free bridge card game resource to help you find the best online playing experience for your skill level.
This guide is aimed at helping players learn information about the game. The guide covers many aspects of online bridge including
Contract bridge is played on kitchen table tops, at tournaments in large convention halls and online during every minute of the day. Thousands of players of all skill levels enjoy the social aspect of online bridge games with friends and family. Playing online bridge is a great way to make friends that you can play with as your partner or to challenge. This site also suggests other websites that discuss topics for online or live bridge players of all experience levels. Best of luck to you always and may most of your contracts be fulfilled.