Bridge Base Online is widely considered one of the top online Bridge Internet sites. The Bridge Base Online has attracted the biggest following among online Bridge players in part because it is so well trusted among some of the world's best Bridge players. Besides being the worldwide most favored online Bridge site, Bridge Base also has several other reasons it is often mentioned as the best online Bridge site when the actual game play is compared.
Fast, reliable servers that keep the game running smoothly
Detailed graphics which are regularly being improved
Ease of use for players
Ability to watch tables, including matches between national and world champions
Helpful and intelligent online community
Tournaments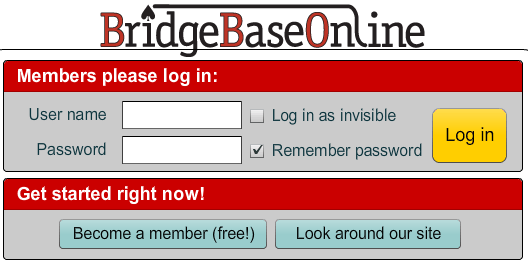 Bridge Base Online continues to increase its exposure by partnering with other online game sites. These partnerships bring players familiar with live Bridge and transition them into becoming new online Bridge players, which increases the pool of players at Bridge Base Online. Additionally, the exposure to newbies to Bridge increases the interest and spread of Bridge to an ever increasing Bridge loving world.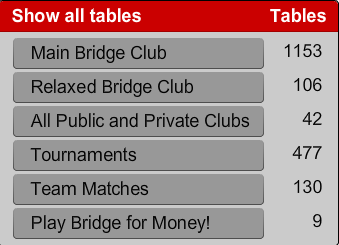 Bridge Base Online can be a great place to play if you are new to playing online Bridge or if you are totally new to the game of Bridge. Signing up for an account and opening up the lobby to view games is very easy. Once you are in the lobby, watching others play, starting a new table or joining a game is very straightforward and similar to lobbies of other online games like chess, backgammon, spades, hearts, and other card games.
Bridge Base Online review
The conclusion of the Bridge Base Online review is that you should definitely check out playing the great card game Bridge at this free Internet Bridge site. The software is one of the best and does not suffer from bugs like many other online Bridge sites. The community is active making BBO one of the best places for beginners to watch, chat and learn how to play Bridge. The level of competition varies so finding players with about the same skill level as yourself is easy to do. BBO also the offers serious players a chance to play for real money. Overall, Bridge Base Online should be one of the first places you visit when choosing to play Bridge online because of the many positives the site offers.