Bridge Base Online is the home for contract bridge games online where thousands of bridge players from all levels can play for free. Yes, you read that right, the site is geared towards free online bridge card games and thus attracts tens of thousands of players from absolute newcomers to world champion players. The bridge site offers contract bridge tournaments and around the clock just sit-down and play games.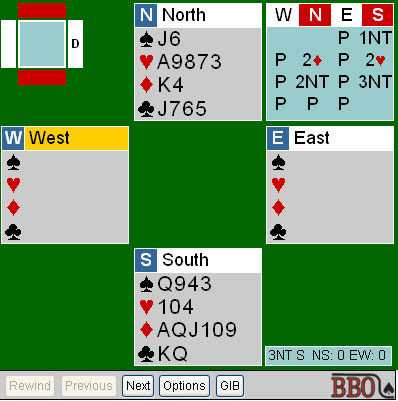 The launch of Bridge Base Online on April 23, 2001 provided breakthrough gaming technology to avid bridge players allowing them to play the game they love on the Internet. Though other online bridge sites exist, BBO, as it is widely known, uses quality software that keeps the games moving along from easy to click bidding to choosing which card to play during the play of the hand. Scoring is automatic and so you tend to play many more hands per hour when you play bridge online compared to playing in real life.
The President of Bridge Base Online is Fred Gitelman, a notable bridge player who before launching BBO produced strategy tools for analyzing situations that were aimed at advanced bridge players. He continued his efforts to focus on building the game of bridge by launching the now famous free online bridge site where you can often find many famous bridge players playing against one another. Many people watch these partnerships play and these observers are known as kibitzers. The chat boxes enable players and observers to communicate. Another nice feature is that hand records are kept that allow players to compare similar situations against other players who have played that same hand.
The free Internet bridge site Bridge Base Online also has resources for beginners to learn basic bidding and play instruction and rooms designed for players to practice bidding and practice playing. Many novice and intermediate players spend time simply observing other games. By paying attention to how other partnerships handle certain situations, the person watching can learn considerable insights into when and why to bid certain things and how important the opening lead is. Beginners can also learn a simple bidding system known as Bridgebase basic that is a take-off of the Standard American bridge bidding system. This system is taught in the Learn to Play Bridge computer program the Fred Gitelman created.
The best part of playing online bridge are the contract bridge tournaments. You can choose to play individual, partnerships or team tournaments that are held daily. A number of these tournaments are free while many cost $1. You can also play bridge for money, that is Bridge Base Online dollars. One BBO dollar equals one US dollar and can be used for tournaments or to buy the educational software that BBO produces.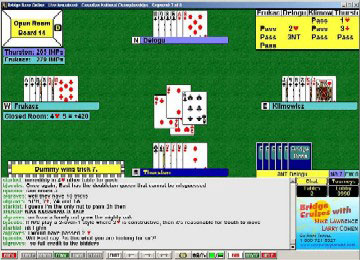 The most state-of-the-art technology on the site is the Vugraph because it displays real-life hands of major tournaments being played all over the world. Thousands of people watch as live updates to the matches are displayed on the computer using the software known as Vugraph. Expert commentary often accompanies these national and international competitions being broadcast on Vugraph. This technology has brought many fans to contract tournament bridge because simply by being a Bridge Base Online user that person can watch as the hands unfold for some of the best bridge players in the world.
Playing online bridge has helped millions of people learn how to play this card game. No single site has done more for promoting online contract bridge and real life contract bridge tournaments. The friendly atmosphere and easy to use software makes playing free online bridge games at Bridge Base Online the ultimate experience for any level player.