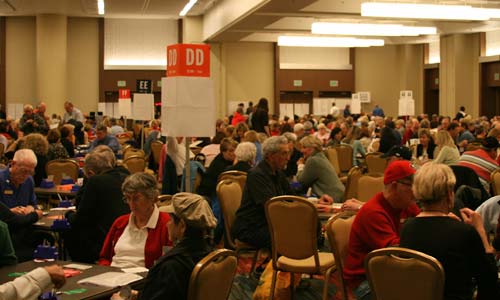 The game of Bridge at first may seem complex, but as you learn how to play bridge you will quickly understand the game play and the many opportunities to improve your strategy.
Playing online is anonymous so you can learn how to play bridge without any pressure. Play at tables against players with similar skill level. Games starting 24 hours a day, 7 days a week 365 days a year.
Bridge tournaments are regularly scheduled and daily tournaments are played every day at several different online bridge sites.
Online bridge is free.
Bridge is a social game, so there are always opportunities to make new friends and find regular playing partners.
Bridge is a team game. Bridge is played with pairs, so you will have to work together with your partner to be successful. You can also be part of a larger team in certain events, 4 or 6 total players.
After learning how to play bridge you will be able to continually improve your game as even the best bridge players in the world are constantly looking for ways to improve their games.
Bridge is good for the brain as it requires heavy thinking and strong memorization skills.
The game of Bridge is exciting and challenging, and you will be surprised how once you learn how to play Bridge you will want to play the game often. There are many sources for information on how to play better Bridge so improving your game can be done by reading, playing, using computer simulations and talking to other players.
Money, tournament titles and notoriety can be gained by playing rubber Bridge and Bridge tournaments at the local, regional, national and international levels.