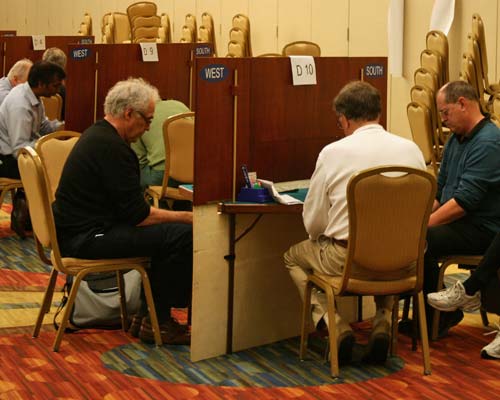 Throughout history many famous bridge players have competed in tournaments around the world. Duplicate contract bridge tournaments have made many players famous for their success. However, the general consensus is that the most famous bridge players are not surprising real world celebrities. For instance, everyone in the world knows who Bill Gates, the founder of Microsoft is by name, but does everyone know he has entered national bridge tournament events for years? Likewise, billionaire and American businessman Warren Buffett started playing before Gates and they both continue to play as one of their favorite past times and have even been seen at the same table together. Snoopy and Woodstock are also famous bridge players. In multiple Peanuts cartoon strips, Woodstock is seen playing cards with his friends. The ACBL honored Snoopy by putting him in the Hall of Fame.
Warren Buffet
Warren Buffet who stated, "Bridge is such a sensational game that I wouldn't mind being in jail if I had three cell mates who were decent players and who were willing to keep the game going twenty-four hours a day." His love of the game is evidenced by his playing at least 12 hours of bridge per week. Well known for Buffett's partnership with Bill Gates with who he has shared moderate success.
Warren Buffet helped launch the Buffet Cup featuring some great high level bridge play by many of the world's greatest players.
Winston Churchill
Winston Churchill led the United Kingdom during the Second World War was an avid bridge player. Some of his battlefield decisions were likely influenced by the strategies and tactics that can be traced to the game of bridge. Churchill admitted his bridge skills were far from expert level.
Bill Gates
"Bridge is the king of all card games." – Bill Gates
Bill Gates is the famous creator of Microsoft and his passion for bridge is well known. Playing often with Warren Buffett, Bill Gates has regularly been seen at big tournament events competing against the world's best players. Gates is known to hire top bridge professionals to form a formidable team that has on occasion done well in international bridge tournament events. Bill Gates is obviously of the most famous bridge players because of his well known stature as one of the great technology minds of past couple of decades and the enormous wealth he created as a result of his Microsoft products. Bridge is not his only other passion in life as he is well known for his charitable actions that include The Bill & Melinda Gates Foundation. Gates learned how to play bridge as a child from his parents. His interest in the game intensified when he started playing with Buffett in ACBL tournaments and online. The occasional partnership has had some tournament success and has helped garner media attention for the game of bridge.
George S. Kaufman
George S. Kaufman was a famous writer and playwright and director who won the Pulitzer Prize for Drama. His writings on Bridge appeared in the New Yorker and his style of writing brought laughter to many who read the pieces. A very talented entertainer and a rather skillful famous bridge player.
Deng Xiaoping
Deng Xiaoping was a Chinese politician who help lead communist China towards a market economy. Widely regarded as an outstanding bridge player, Deng and his partner Nie Weiping were masterful and often dominated the games played at the Great Hall of the People. Many people considered Deng one of the most famous bridge players in the world because his expertise at the game was very evident.
Dwight Eisenhower
Dwight Eisenhower was the 34th President of the United States from 1953-1961. Best known for his leadership of the Allied Forces in Europe as the Supreme Commander. Known for a straight forward bridge playing style, he only used the Blackwood slam convention as his one artificial bidding device. Widely regarded as an exceptional player, President Eisenhower was the first bridge playing President of the United States. An avid golfer, his sport of choice when indoors was playing some rubber bridge. The scene was reportedly known to take place on the roof of the White House in the solarium. After a good session, the game would break for dinner and continue afterward in the President's private study room which is better known as the Treaty Room. Eisenhower's passion to play cements his legacy as the most famous American bridge politician.
Buster Keaton
Buster Keaton was best known for comedy during the silent movie era, the actor was also a producer, writer and director. Buster enjoyed playing bridge.
Omar Sharif
Omar Sharif is an Egyptian actor who has starred in some of Hollywood's most famous movies including Doctor Zhvago and Lawrence of Arabia. An Academy Award nominee, Sharif at one point was ranked as one of the best contract bridge players in the world. His bridge team known as the "Omar Sharif Bridge Circus" toured the world in 1967 playing against famous teams like the Dallas Aces and the Blue Team. Alongside Charles Goren, Sharif wrote a newspaper column on bridge for the Chicago Tribune that was reprinted in many newspapers. His Egyptian partner was Maged Elewa, a well known expert on the game, played together in international tournaments.
Mahatma Ghandi
Mohandas Karamchand Gandhi played bridge as a young man. Better known as Mahatma Ghandi, was the leader of the Indian nationalism in the British ruled India. His non-violent civil disobedience help lead India to independence and set an example for the entire world for people to fight for civil rights and freedom using peaceful methods.
Margaret Thatcher
Margaret Thatcher was the longest serving British Prime Minister during the twentieth century and the only women ever to be the Prime Minister of Great Britain. Thatcher played bridge casually.
Bob Hamman
The American Bob Hamman is considered by almost all experts to be the greatest bridge player ever and has been ranked as the number one player in the world. A member of the famed Dallas Aces and more recently team Nickell, Bob Hamman has won many major international tournaments and many ACBL pair championships (Blue Ribbon Pairs, Life Master Pairs and Men's Pairs). Hamman's international world championship wins at the Bermuda Bowl Bermuda Bowl in 1970, 1971, 1977, 1983, 1985, 1987, 1995, 2000, 2003, and 2009 have helped established the United States as one of the best bridge playing countries in the world. The Bermuda Bowl battles against the Italian teams were epic confrontations. Hamman has had many famous bridge playing partners over the years including these great players Bobby Wolff, Michael Rosenberg, Paul Soloway and Zia Mahmood. Born in California, Hamman is a member of the ACBL Hall of Fame, inducted in 1999.
There are many more famous bridge players who are famous within the bridge playing community because of their many accomplishments and contributions to the game of bridge.
Malcom Forbes
The son of the founder of Forbes Magazine, the late Malcom Forbes ran the business magazine for many years. Clearly one of Forbes favorite ways to past time was at the bridge table.