Funbridge allows you to play bridge wherever and whenever you like!
Funbridge is a duplicate bridge game available as an application and a software program on smartphones, tablets, Mac and Windows computers. You can also test your knowledge with Funbridge Quiz! Updated lessons on bidding and card play with exercises. The redesigned interface makes for one of the best online bridge playing experiences.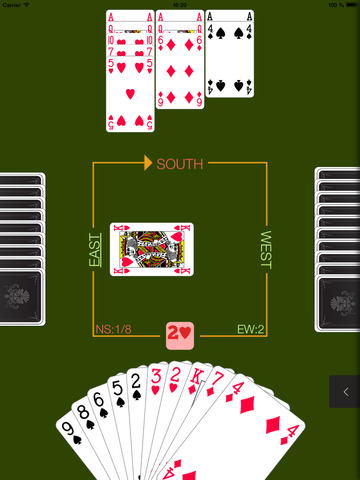 The Funbridge review looks at the impressive platform that has over 250,000 players from 170 different countries, making it one of the largest bridge communities on the Internet.
Funbridge is the property of the GOTO Games company which enjoys an excellent reputation as a puzzle game publisher, especially in the bridge world. A prime example of this is the solid partnerships developed with the French Bridge Federation (FFB), French clubs and leading French bridge magazines. It includes cooperation for statements and articles, two exclusive weekly tournaments held on Funbridge and officially recognized by the French Bridge Federation, discounts on subscriptions, etc.
Funbridge main features:
– Free: play an unlimited number of practice tournaments!
– Different game modes: series tournaments, daily tournaments, practice tournaments, challenges, etc.
– Compare yourself to Funbridge players from all around the world and rank yourself.
– A unique game system: you play South's hand whereas North, East and West are played by computers.
– Play at your own pace: you can pause a deal and resume it later.
– Game engine developed by Jerome Rombaut, a European Bridge Champion who recently won the 15th World Youth Team Championships with the French Girls Team.
– Funbridge makes bridge easier. You will now be able to use a single account valid on all devices.
The Funbridge review concludes by saying the bridge playing experience is very good and many people have fun playing bridge on Funbridge on their phones, tablets and computers.