Yahoo! Bridge is the best known free online Bridge site and one that has tables running at all times of the day and night. Being part of the Yahoo! games network the Yahoo! Bridge has many players in dozens of lounges. Many players are regulars at the tables, though a lot of players are sitting down to play for the first time. Rankings add a nice touch so that you can find players of comparative skill level to challenge. Yahoo! games are built for speed over graphics, but the cards are well detailed and large enough to easily see. The game speed is very responsive to each play made by the players. Since a large percentage of Internet users have a Yahoo account it is easy and fast to invite friends to play.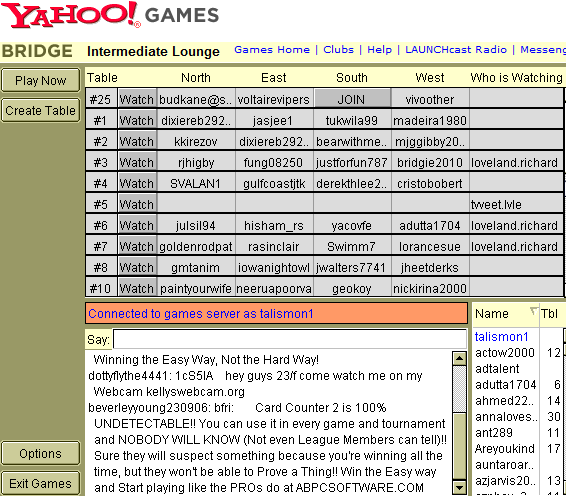 Respected Yahoo! servers that are reliable and is well connected to news, email, and other Yahoo! applications
Graphics are adequate and card suits and ranks easy to see
Beginners can understand the controls easily
Table watching allowed
Ranked competitive games
Unranked games
Free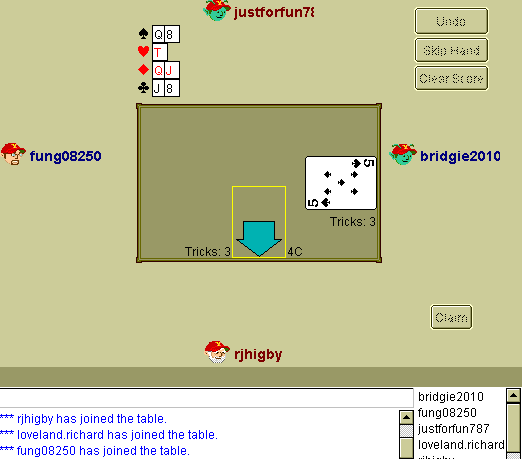 Yahoo! Bridge is one of the first places most new online Bridge players get started because the Yahoo! games are well known to be some of the best free games on the Internet. New Yahoo! users can get a free account easily and be playing in minutes.
Yahoo! Bridge review
The conclusion of the Yahoo! Bridge review is that finding a Bridge lounge that you feel comfortable in for your given skill level is easy to do. The online Bridge games are easy to join and the controls are simple to use for newbies to playing online Bridge.